Organization
The Jersey Surf is a New Jersey non-profit corporation, dedicated to providing quality educational opportunities for young people in the performing arts. These opportunities occur in an environment which promotes the social and artistic development of the organization's participants through creative programs, designed with the highest possible quality of leadership and instruction.
The drum and bugle corps activity has been described as, a rare combination of musical entertainment, physical activity, competition, social opportunities, travel and fun. It is about learning, coping and growing. It is an activity in which you can put your talents to the test and push your own limits. The test is the pursuit of excellence, both as an individual and as a member of the team. The drum corps activity is full of excitement, opportunity and challenge. Welcome to the exciting world of competitive drum and bugle corps and to the exciting world of The Jersey Surf.
Our Philosophy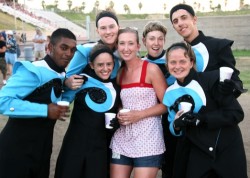 By combining a positive attitude with a commitment to living every day in the pursuit of our "personal best," there is virtually no limit to what we can accomplish… as individuals who comprise the special team effort called The Jersey Surf. We "do what we love" and we "love what we do."
Our program has been designed to enable everyone who participates, from our marching members to those who volunteer their time as instructional, support and administrative staff members, to enjoy their substantial investment in the organization and in one another. We're focused on the journey that drum corps creates for us… not just the competitive destination. We're constantly striving to make things better on the field and behind the scenes… and we invite you to become a part of our team. Call, write or e-mail us today for additional information.