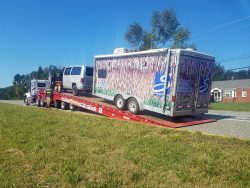 Following our competitive season premiere performance on Tuesday evening at MetLife Stadium in East Rutherford, NJ, the Jersey Surf souvenir merchandise trailer and the corps van towing it were involved in a motor vehicle accident early Wednesday morning in Newburg, MD. There were no injuries and only the Surf van and "souvie" trailer were involved.
At the time of the mishap, three adult Surf team members were heading to the corps housing site in Milton, VA. Corps performers, staff and other volunteers were not affected, having arrived at the housing location several hours earlier.
"Although the damage sustained to the vehicles will render them unusable for at least the remainder of the season, we are very fortunate and tremendously grateful that our quick-thinking driver and the protective devices installed on the equipment functioned flawlessly," said Jersey Surf Executive Director Bob Jacobs.
After renting a replacement vehicle, the corps regrouped and continued onto a rehearsal day in McBee, SC and has continued on the 2019 Tour, taking the setback in stride. "We've come to depend on both of those vehicles for many tasks throughout the year. Replacing them will be a post-season priority, and we're hopeful that our friends and former members will rise to the challenge by assisting us in raising the funds necessary to keep things moving forward without skipping a beat."