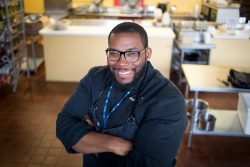 Professional chef, educator, seasoned Food Network champion contestant & creative culinary artist Timothy Witcher is the newest addition to the Jersey Surf World Class Drum Corps touring staff. Chef Witcher will oversee the ongoing training of members of the Surf's volunteer food service team, will assist in menu & recipe development & will share his vast experience & numerous talents with corps members & staff in the Surf's mobile kitchen truck as the organization's guest chef-in-residence on several legs of the 10,000 mile 2017 Drum Corps International Tour. He will assist the Surf's veteran food team lead Kammy Johnson who oversees the corps food & nutrition program which provides four meals each day of the 60-day tour for 200 performers, instructors and support personnel.
Chef Witcher, a South Jersey Native, has garnered regional acclaim throughout a successful career which includes experience in the executive kitchens of leading Philadelphia-area hotels, exclusive catering firms and world class sports arenas. The chef has added to his impressive resume through his victories on Food Network's "Rewrapped" and "Chopped" competitive cooking shows. He has been a regularly-featured guest on Fox Philadelphia News, and has also been featured in the Courier-Post newspaper, The Philadelphia Inquirer and on Philly.com.
Chef Witcher was also a featured chef at the Food Network's Wine and Food Festival in New York City, as well as the Philadelphia Food and Wine festival. He has cooked in the same venues with popular celebrity chefs including Bobby Flay, Michael Simon and Robert Irvine.
In his current role, the chef is helping to inspire and train a new generation of aspiring chefs as a culinary arts educator at the Camden County Technical School – the Jersey Surf's winter rehearsal camp "home" for most of the organization's 27-year history. In this position, Chef Witcher is thrilled that he can share his intense love for food, technique, and local fresh ingredients with promising young chefs of tomorrow.
"Joining the Jersey Surf team for the DCI tour is going to be an incredible experience," Witcher said. "Being around such a passionate group of individuals is an inspiration in itself! I'm excited to see areas of the country I've only dreamed about, all from the unique point of view of a touring drum corps mobile kitchen truck; and to using this unique experience to add to my own culinary repertoire."
According to Bob Jacobs, Executive Director of the Jersey Surf, " We've been fortunate to enjoy a legacy of incredibly talented and dedicated teams of volunteers providing plentiful, nutritious and delicious offerings for our members and staff each year since our organization began in 1990. Our current team has built on the success and institutional knowledge we've acquired and accumulated over the past twenty seven years. The addition of Chef Tim Witcher will help us to elevate our program to another level entirely and will help us achieve our goal of providing our members with an exceptional experience. Although he may be new to the Surf family, the chef already understands and embraces our "Share the Love" philosophy. He's going to help us make a great situation and team even better. We're looking forward to learning from him and enjoying the benefits of his tremendous experience."