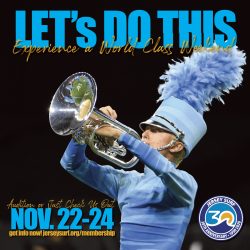 A generous drum corps fan wishing to remain anonymous asked the Jersey Surf to consider a proposal to expose a potentially larger number of prospective performers to the DCI World Class experience by covering a significant portion of the organization's facility rental, vehicle rental and meal expenses for the November 22-24 "Experience & Audition Camp" weekend.
The donor's goal is to assist the corps in kicking off its 30th Anniversary Season by making a donation to remove a large portion of the expense involved in running what is usually one of the largest rehearsal camp weekends of the year. This will enable the corps to offer an entire World Class weekend experience at a very inexpensive price for participants.
Thus, the Jersey Surf is pleased to offer a full weekend camp experience November 22-24 at the Camden County Technical School In Sicklerville NJ for a fee of ONLY $30! when registering and paying online before 11:59PM on Thursday, November 21. Price on the day of the camp and "at the door" will be $50; so everyone is encouraged to Download Audition Packets and Register Now.
Participants (returning members and prospective new members) will have the opportunity to participate in a complete "weekend in the life" of a World Class DCI corps including:
•  sectional rehearsals & focused instruction on the instrument or equipment  of their choice led by experienced, qualified performing arts educators
• In-water participation in the Corps's exclusive "Get Wet Get Fit" aqua fitness program custom designed for the Jersey Surf by pre-season conditioning partners ProSwim Fitness.
• Dance and Movement instruction
• informal group discussions and Q&A sessions with veteran members, alumni & corps administration
• Sunday friends & family "Show & Tell" performance
• All meals provided by Jersey Surf culinary team members
• Attendees will have the opportunity to work directly with corps instructional staff to create a skills development plan – regardless of their intention to audition for the 2020 edition of the corps.
• Those wishing to audition may do so. Contracts will be offered to returning veteran members and prospects who meet or exceed performance requirements.
• Interested attendees will be invited to return to the December camp weekend to demonstrate growth between camps as they continue the process of securing a spot in the 2020 corps
WHO SHOULD ATTEND?
• Returning Surf members
• Those interested in auditioning for the 2020 corps
• Those interested in gaining insight into the behind the scenes aspect of building a world class DCI touring ensemble from the very start of the season
• Those interested in gaining experience to assist in better preparing them for future audition opportunities
• Students considering future opportunities as performers or educators
• Students who are passionate about the marching arts and who desire to expand their perspective, make new friends and develop new skills in a safe, fun, energetic and welcoming environment.